Auction Direct
Auto auction agency in Japan
Didn't find the used vehicle you were looking for? Autorec can still help!
You can join in the Japanese Auto Auctions through us!
Cooperate with 123 Auction houses!!
Various choices more than 90,000 units throughout Japan!!
You are able to check auction cars online and have a try within your budget!
HOW TO USE OUR AUCTION DIRECT SERVICE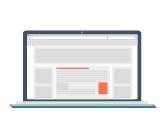 Step 1. Registration
Please kindly send us the Entry Form below
We will send you a message, so please kindly follow us the guidance to complete the registration.
We will require your deposit to view the auction cars, but you can use this payment on your purchase! (If you already have cars on target withfixed budget, you can also make the down payment instead of the deposit at this point.
Registration fee: US$50 » if you win any unit through us, you can use this US$50 as US$100 credit!!! 


Step 2. Start Looking for Cars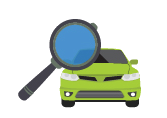 You can access all available car's information! You can freely look into the site and find the best car for you!

Step 3. Down Payment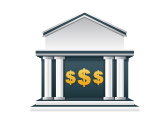 We will require a down payment before we place a bid for your car, so kindly let us know when you are ready to arrange the payment. We will send you the proforma invoice or Paypal request. How much of a down payment do we need, and how much will we take the commission? Please take a look at the chart below, and it should explain everything.
| Auction Price | Commission | Down Payment |
| --- | --- | --- |
| Less than JPY 100,000 | JPY 30,000 | JPY 50,000 |
| JPY 101,000 - 1,000,000 | 30% JPY 90,000 max | JPY 100,000 |
| JPY 1,001,00 + | 8% JPY 90,000 min | JPY 500,000 |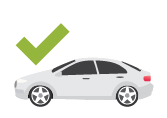 Step 4. Choose a Car
Once we confirm your down payment, we can start bidding.
When you decide to bid oncar(s), please tell us your maximum bidding price.
** Please send Bid requests before 8 hours from Auction time.
** Thereare pay servicesof actual cars observation. Kindly let us know if you need such services in advance.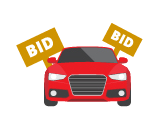 Step 5. Bidding
We will try bidding on the selected unit and report to you the result.
If you win the unit, we will send you the proforma invoice after calculating the balance amount.
After we confirm your full payment, we will arrange the shipment.
** Cars purchased through auction houses will not be serviced before shipment unless you have any requests at our workshop.Basically cars will be delivered to the nearest port directly from auction houses.
If the bidding is not successful, you can use the down payment for next bidding. 
** In case we need bidding fee which is around JPY500-1,080, we will inform you and deduct it from your down payment.

How much will be the FOB price?
As an example, please kindly see below calculations.
If you won a unit at JPY50,000;
 
| | |
| --- | --- |
| Auction Price: | JPY50,000 |
| Auction fee: | JPY10,000-25,000 |
| Delivery to the Port: | JPY5,000-45,000(depending on the auction house) |
| Custom clearance fee: | JPY13,000-18,000 |
| Documents fee: | JPY2,800 |
| Courier fee: | JPY3,000-8,000 |
| Our Commission: | JPY30,000 |
| Total FOB price: | JPY113,800 - JPY178,800 |
** C&F price will be FOB price + Ocean Freight.
** CIF price will be FOB price + Ocean Freight + Marine Insurance.
Auction Direct Entry Form